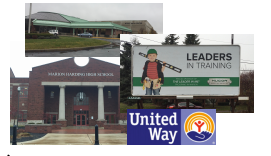 The members of the Marion Mentors 21 team are excited to welcome the Marion United Way as a partner in the development of a mentoring program designed to serve students in the Marion City Schools.   The United Way joins the Marion Family YMCA, Nucor Steel, and the Marion City Schools in the effort to recruit, screen, train, and support caring adult mentors who will be matched with students in the Marion City Schools.    The United Way will support this effort by helping recruit caring adults to serve as mentors and by developing the training program all mentors will receive.   This training will focus on Relationship Building and share the five characteristics of a strong mentor.
Caring Concern and Trust
Quality Listening Skills
Building on Strengths and Having Fun
Collaboration
Coaching Life Skills
Marion Mentors 21 looks forward to this partnership with the United Way as we continue to align the resources of our community to support the Marion City School's mission to Inspire a Community of Achievement!